このページは、在日外国人向けでCOVID-19向けの英語発信しています。 This page is for English speakers in Japan for COVID-19.   Only for Domestic. Not for international shipping.  Hope this helps you!
 Cleanse your space from germs using a mild solution of hypochlorous acid.
We are ONLY able to ship in Japan.  
We can Not ship this internationally because of the chemical substance.
●Price 220 gram (Scale spoon and scale cup included) is 4.500 Yen including the domestic shipping charge. (You can make more than 3.000 liter of 72 ppm solution.)
Hypochlorous acid (HOCI) is produced by dissolving chlorine into water. It acts as a natural germ killer and is considered to be one of the most powerful anti germ solutions that is perfectly safe to use.
To make the concentrate please follow the following instructions carefully.
Step 1 : Using protective gloves, add 3.6g of the powder into a bottle containing 500ml of water
(or 7.2g for 1 litre and 14.4g for 2L of water ) to produce a concentrated solution of 7200pm. 
You can store the concentrated solution for up to 3 months.
( Be careful to store it in a cool and dark place as a reaction may form due to heat and ultraviolet
rays. )
Step 2: Add the 10ml (or 10cc) of the concentrated solution for every 1L of water into a humidifier
or a spray bottle to produce a concentration of 72ppm.
ex: If you wish to leave your humidifier on for 24 hr or more, the best thing to do would be to double the amount of water to make a concentration of 30 ppm. Which is recommended when
wanting to sanitise a larger living area such as a living room.
( Sodium Hypochlorite NaCIO which is a chlorine compound found in disinfectants can be dangerous for the mucous membrane such as the eyes and nose.  Hypochlorous acid however is a weaker
type of acid thus using 50 to 120ppm of the concentrate is safe to use on the skin )
Product information:
Sodium dichloroisocyanurate ( SDIC ) / containing 60% chlorine
Used as a water/hypochlorite water generating powder / pool disinfectant
Please observe the following usage and storage carefully.
Do not mix with other solutions
Use protective gloves
Use protective glasses
Harmful, do not ingest.
Corrosive
Keep away from fire
This product is oxidative
Notes on use
Wear protective glasses, gloves, shoes and a mask.
In case of adhesion, wash thoroughly with water and seek medical attention immediately.
Do not swallow. This product is not intended to be consumed.
In case of adhesion seek medial attention and rinse thoroughly.
Do no mix. ( Dangerous reactions and gas may occur if mixed with detergents, chemicals, metals,
acids, oils, organic substances, alkalis, flammable substances etc.. )
Please store as follow:
Keep the concentrate in a cool and dark place with no humidity. ( a well ventilated place away
from direct sunlight )
Please note that Chlorine gas easily decomposes and defuses everywhere. 
Please use the powder within 2 years. If left unattended for a prolonged time, the bag may corrode and leakage may come out.
Do not put objects around as they may corrode.
Please keep it in a safe place out of reach from infants and children.
Do not reuse the container for any other usages or mix with foreign matter.
Content : Sodium Dichloroisocyanurate granules
Please read the Material Safety Data Sheet ( MSDS ) before use.
Example of usage:
For 75ppm ( 1L of water containing 10ml or cc of the concentrated solution ).
Using an ultrasonic humidifier : ( recommended use for the solution )
( To cleanse shoes, clothes, bags, luggage, mail items etc You can also sterilise your mask by bringing it close to the steam, sterilising both the front and the back. )
Ultrasonic humidifier produces a type of steam that forms without any heating.
( There are various types of humidifiers. Steam types which heats water by an elevation of temperature are not recommended as they use up a lot of electricity and can become quite pricy.
Steam vaporizers can also be used however it is more difficult to sterilise things as the coverage of vaporizers is limited. ) 
We recommend using an ultrasonic humidifier. And keeping the concentration at 30ppm by doubling the amount of water. You can then safely leave it on in the living room for the entirety of the day.
Using a spray bottle.
( You may reuse an empty bottle of sodium sesquicarbonate or baking soda. In which case, you should wash it thoroughly by rinsing it with water. Next ad a very small amount of the solution just
to thoroughly clean the entirety of the spray bottle with some water. Spray a couple of times to cleanse the rim and the outer edge of the bottle. Rinse the content out. And you are ready to add
10ml (cc) of the concentrated solution for every litre of water.
When using a spray bottle. It is recommended to keep the concentration of the solution from 75ppm to 100 ppm. As discolouration may be produced when the concentration is any higher than 100ppm. Along with a strong smell of chlorine. ( for example when adding 20cc to 1Liter of
water to create a concentration of 150ppm ).
It is not recommend to use this product to spray on your hands. As it may cause the skin to
become rough. Therefore we would advise you to use a different method in order to properly sterilise your hands.
General notes
This product contains a strong oxidizer. Thus mixing it with other substances  is prohibited. 
Do not expose the concentrated solution to direct sunlight or UV rays.
Do not leave the spray bottle in a car that gets heated. As the effects of the solutions will lessen.
 * The concentrated solution will last you and stay effective for two and a half months if kept in a cool place, away from direct sunlight.
 You may also wrap the bottle of the concentrated solution with an aluminium foil or use a PET bottle to block the light.
*************************
Important notice for handling high-concentration liquids 
From the Hypochlorous acid concentrations made from the powder. A gas may be produced during the summer season, with the rising of temperatures.
The chlorine ion or anions react and change the molecular composition easily. Thus airing out a bottle where gas may have been
formed will keep the bottle from expanding.
( During the end of April when the temperatures began to rise. I left a bottle of the concentrated solution untouched for a month. The bottle had expanded slightly by the gas which was produced from the heating process of the solution. )
If you have a concentrated solution made from the powder and are not using it for a long period of time. It is recommend that you regularly degas it.
Here are some of the things you can do to avoid gas from being created :
1) Make a small amount of the concentrated solution. ( less than 1L at a time during the warmer months )
2) Use it frequently and degas it as stated above.
3) Use a suitable container to store the solution in such as an empty bottle of sodium carbonate.
4) Store in a cool and dark place such as the refrigerator.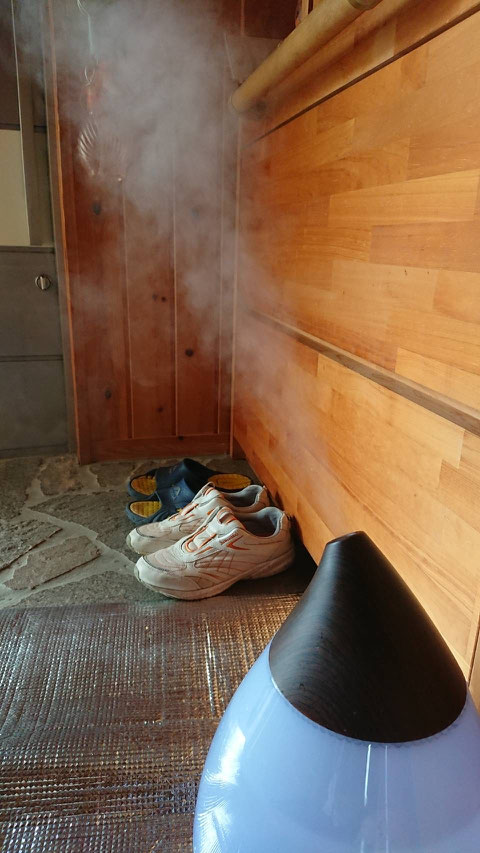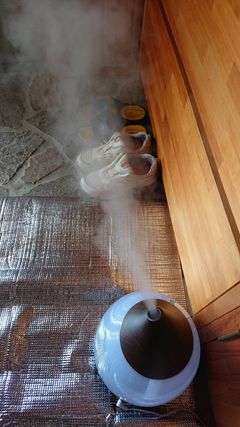 We recommend using an ultrasonic humidifier. And keeping the concentration at 72 ppm hypochlorous acid for your home entrance.  
You can clean your shoes as well as your supermarket's grocery items at your home entrance.
You feel much safer with this when you come back to your home.
If you wish to buy it, we  can ship it to your Japanese address by using the COD of Yamato Takkyuu bin.  All you have to pay is 4.500 Yen including Scale cup and shipping cost and COD charge.